Visionary entrepreneur Rick Mazza founded TRAVELSAVERS® in 1970 for one simple reason: to help travel agency owners like himself grow with the tools and access they need to succeed while retaining their independence.
Rick was a successful travel agency owner seeking a way to exponentially grow his business. He joined a national franchise and quickly realized that the products and services they offered were very limited with a one-size-fits-all approach. No two agencies market and sell alike. Each agency needs customized services and products to meet their individual needs. This strategic approach, along with strong industry relationships, is the core of TRAVELSAVERS' footprint for success and profit.
Today, TRAVELSAVERS is an international marketing leader of more than 3,000 independently owned agencies in over 35 countries. Thanks to the buying power of $20 billion in annual sales, our more than 25,000 advisors are able to offer their clients inspirational travel experiences at the best value.
With a global reputation for excellence, TRAVELSAVERS leisure and corporate agencies maximize sales and profits through cutting-edge products and services that cater to all needs. Through an exclusive protected territory system, strong supplier relationships, comprehensive marketing suite, innovative booking technology, specialized training and networking, and personalized business coaching, TRAVELSAVERS advisors are empowered to find, retain and delight clients. The proprietary resources we provide to our community translate into higher sales and profits that enable agencies to reach and often exceed business goals.
Our Mission, Vision, Values
---
Our mission is to inspire, educate and ignite the entrepreneurial spirit of our travel partners to maximize their potential. We are a dedicated and passionate team that creates successful, unique business resources, providing services beyond expectations every step of the way.
Our vision is to continue to be a company that inspires and ignites an entrepreneurial spirit in travel that drives success.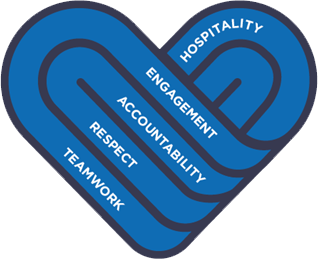 The execution of our strategy is firmly anchored by our family culture — the foundation comprised of the shared values, competencies and spirit of our team. Aligned with our vision to inspire and ignite an entrepreneurial spirit, our values are the HEART of our company and exemplified in how we act every day.
Hospitality
Treating everyone like family with respect and integrity
Engagement
Delivering our mission with passion in a courteous way while encouraging partners to take advantage of all our opportunities
Accountability
Owning our impact and actions
Respect
Considering others in every interaction, while valuing and accepting their views and opinions
Teamwork
Succeeding together in excellence to achieve our goals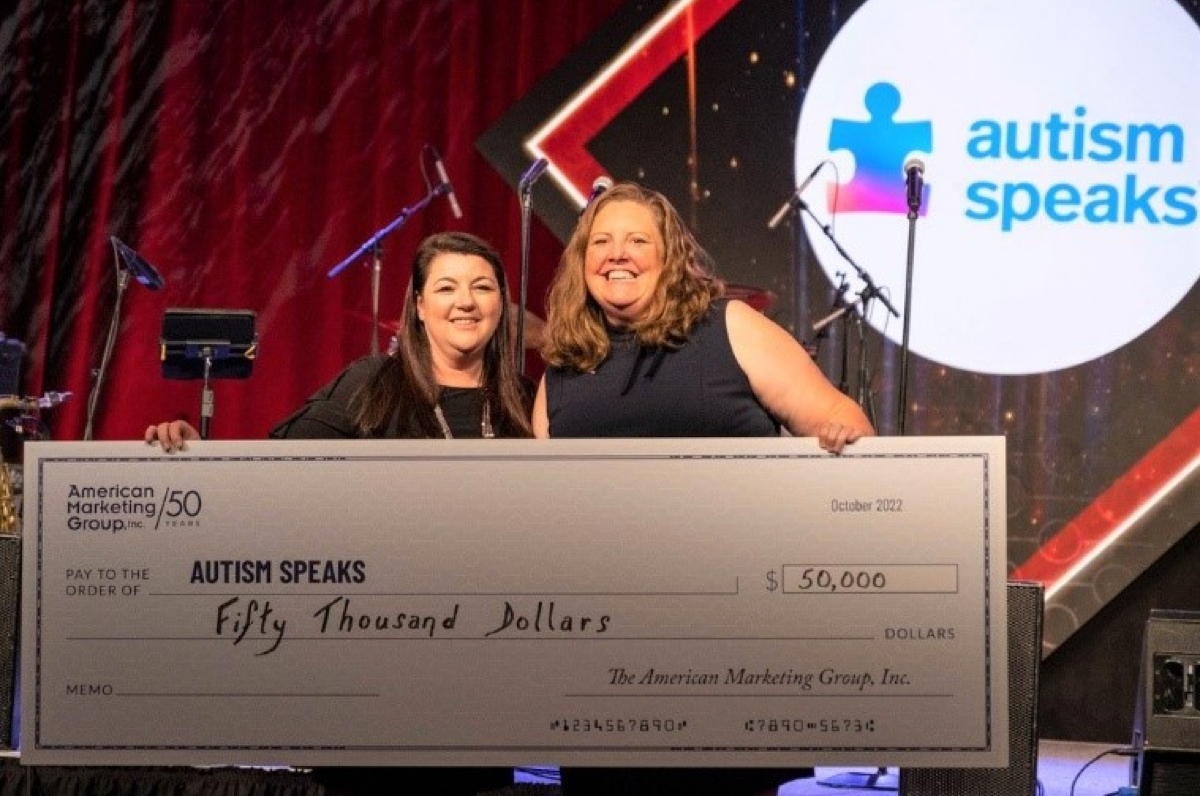 Autism Speaks
AMG is proud to be a longtime advocate for Autism Speaks. The organization is dedicated to creating an inclusive world where individuals with autism can reach their potential. With 1 in 68 children today affected by autism, everyone knows someone who is touched by the condition.
Since starting its involvement with Autism Speaks in 2008, AMG has raised close to $500,000 on its behalf. With the assistance of its advisors, suppliers and staff, AMG holds a silent auction at the gala dinner ending every Travel Market conference. The auction featuring dozens of prizes donated by the travel community raises tens of thousands of dollars for Autism Speaks.
AMG also sponsors the Long Island Walk Now for Autism Speaks, with 20,000 people including employees striding along the Jones Beach boardwalk to benefit the cause. The walk inspires and empowers participants to make a difference and honor someone with autism. As well, AMG has also enlisted the help of its preferred partners to create autism-friendly travel offerings for impacted children and their families.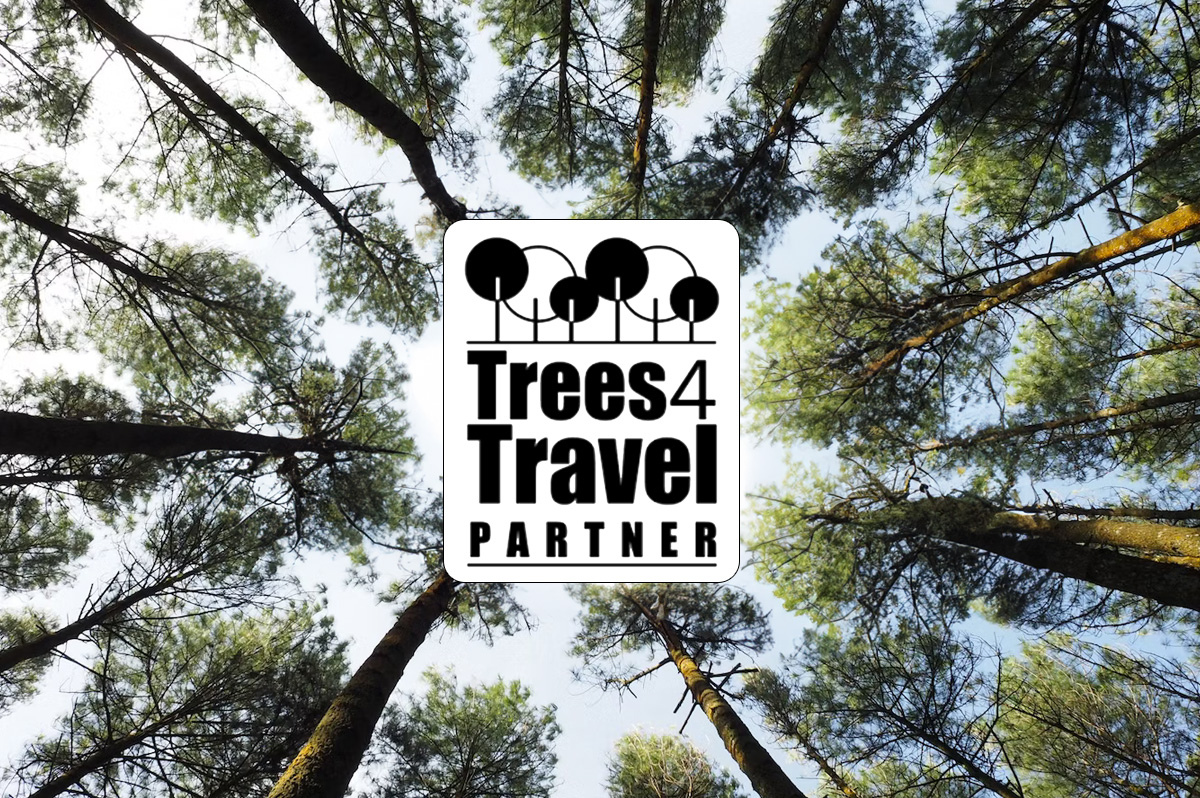 Trees4Travel
AMG is passionate about the power of travel to create a more sustainable future. To demonstrate our commitment, we're the first North American travel agency network to partner with Trees4Travel to rebalance the impact of our event emissions.
By planting trees with Trees4Travel, we compensate for the carbon emissions created from travel to our events. By the end of 2024, we estimate we will save 341 tons of carbon emissions and fund the planting of 2,093 trees. Growing trees in developing countries such as Haiti and Nepal also improves a community's economic situation, restoring ecosystems and biodiversity and creating forests for future generations.
As well, AMG is promoting the importance of Trees4Travel's work to our agency affiliates. Agencies can advise their travelers how to voyage more mindfully and sustainably while reducing emissions. They can also calculate how many trees are needed to compensate for each trip they plan for their clients. For as little as the cost of a cup of coffee, travel companies can help contribute to a more sustainable and equitable world.
Trees4Travel also takes an extra step. It backs up each tree by investing in renewable energy projects such as wind and solar power. It does this with certified emissions reduction carbon credits approved by the United Nations. In this way, the organization both reduces the carbon emitted today and helps with future carbon removal. Trees4Travel's hybrid approach aims to support up to 13 of the 17 UN Sustainable Development Goals, which are targeted to be achieved by 2030.