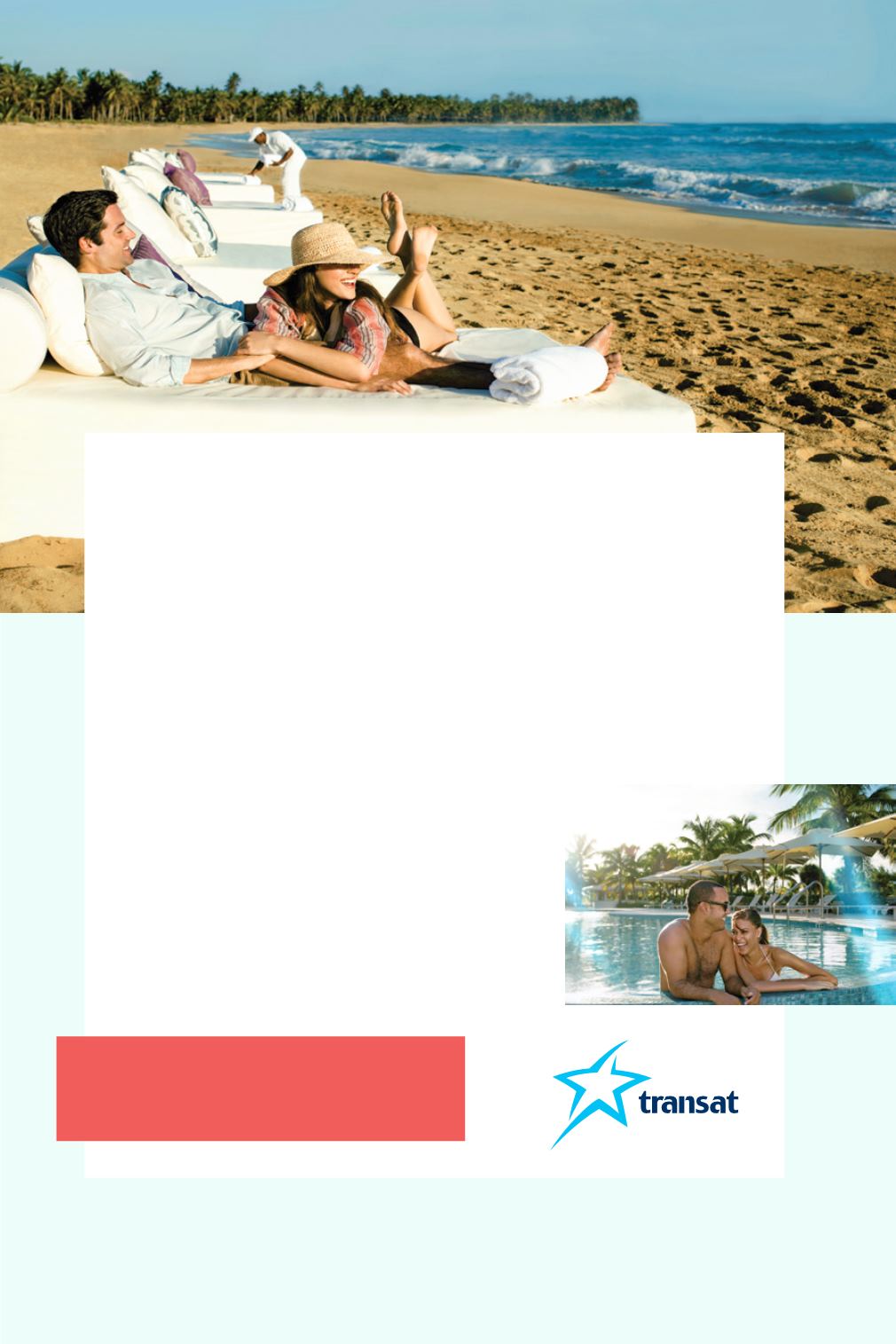 Enter the sumptuous world of lavish holidays
by staying at one of the five-star resorts in
Transat's Luxury Collection. Blending fine
cuisine, deluxe spas and exclusive privileges,
these havens of relaxation and pure bliss treat
you like a star…minus the paparazzi!
YOU'LL ALSO ENJOY…
Free Wi-Fi in the room and public spaces* |
Unlimited à la carte gourmet dining
to spa facilities | Concierge or butler service
| Waiter service at the pool and beach |
Unlimited premium brand drinks | 24-hour
room service | Beach towels, bathrobes and
slippers in the room upon arrival | Coffee
maker with local coffee | Bottle of sparkling
wine and fruit platter in the room upon arrival
Terms and Conditions: *Some restrictions may apply in Cuba.
Where available. Transat is a division of Transat Tours Canada Inc., and is registered as a travel wholesaler in
Ontario (Reg #50009486) with offices at 191 The West Mall, Suite 800, Etobicoke, ON, M9C 5K8; in British Columbia (Reg #2454) with offices at 1090 West Pender Street,
Suite 1110, Vancouver, BC, V6E 2N7 and in Quebec (Reg #754241) with offices at 300 Leo-Pariseau, Suite 500, Montreal, QC H2X 4C2.
Benefits Exclusive
To Transat
Free access to the VIP Lounge
Plus on Air Transat • Private
Access to VIP Lounge, Air
Upgrade and Roundtrip Transfers