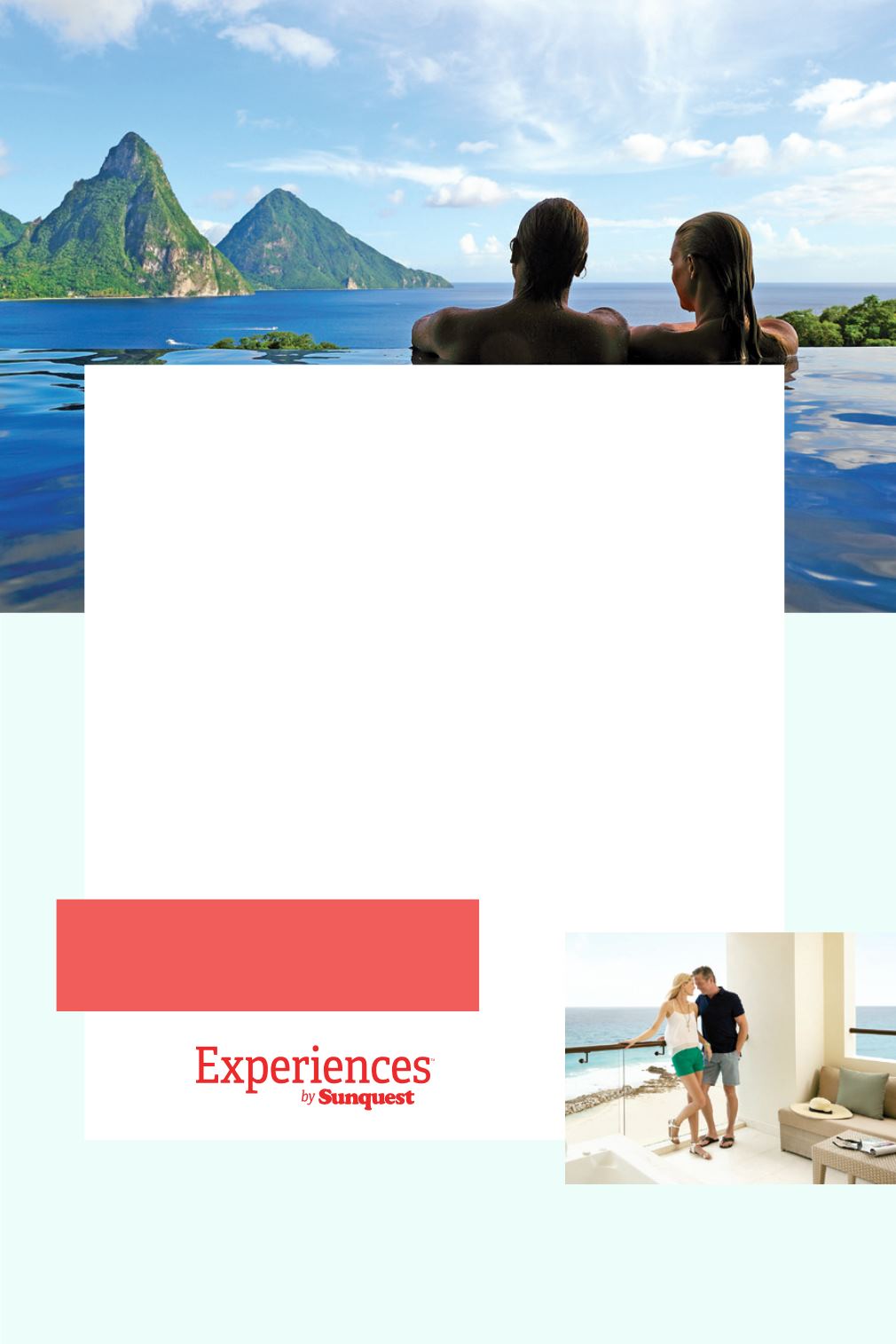 Romance AnyWay YouWant It!
Imagine staying at a hotel surrounded by cocoa
groves, where you can select your own pods to
create your very own handcrafted chocolate bar.
Or picture staying in an ancient monastery that
has been converted into a boutique hotel in one
of Spain's most spectacular mountain regions.
We think it's better to see something once than
to hear about it a thousand times. That's why at
Sunquest your vacation comes with spectacular
views and incredible amenities perfect for
your next romantic escape! Experiences™ by
Sunquest features 8 collections comprising
109 air-inclusive package vacations. The
collections span the globe, covering Sunquest's
traditional "sun" destinations in addition to
new destinations, are you ready?
Terms and Conditions: Exclusive offer is applicable to all Experience by Sunquest packages booked with Sunquest Vacations. Prices will vary based on travel dates, duration,
and flights selected. Additional upgrades are available on the flights and at the hotels; ask your travel agent for more details. Offer applicable to new bookings only made
between May 1 and June 30, 2017. Savings offer is combinable with some offers but may not be combinable with other offers. Please contact your travel agent for full terms
& conditions. Sunquest is a wholly-owned division of TravelBrands Inc. 5450 Explorer Dr. Suite 300 Mississauga ON, L4W 5N1 Ont. Reg: 50012702. B.C. Reg: 3597. Que. Reg:
In addition to the exclusive offer,
take advantage of the following
offers when booking specific
hotels within the Experiences
IBEROSTAR Grand Hotel
Paraiso, Mayan Riviera
Upgrade: Book Pool View,
receive Ocean Front Suite
Travel window – May 1, 2017 to
IBEROSTAR Grand Hotel Rose,
Jamaica Upgrade: Book Swim
Out Suite, receive Ocean
Front Suite
Travel window – May 1, 2017 to
Contact your travel agent for more!
Book any Experience by Sunquest
package and save $100 per couple