The Elegant Rebirth of Le Bernardin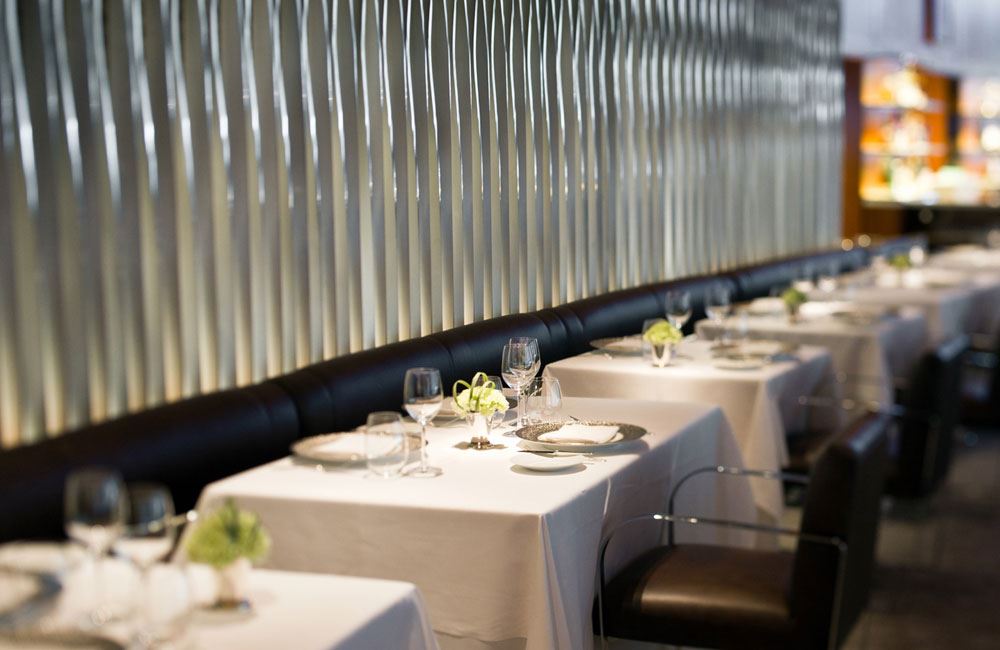 After the untimely death of Le Bernardin's legendary founder Gilbert LeCoze in l994, Eric Ripert not only inherited one of New York City's most iconic restaurants, but the title of "Chef de Cuisine" with it. Routinely ranked among the finest restaurants in the world by culinary magazines, Le Bernardin comfortably stands at number 18 on the S. Pellegrino "World's 50 Best Restaurants" list.
This stalwart of New York City fine dining has been elegantly transformed and expects to charm longtime loyalists and a new generation of diners with its preeminent fare and artistry. Designed by architects Bentel & Bentel, Le Bernardin's redecorated dining room even has the Old Guard cheering. Highlighting the space is a dramatic painting by renowned Brooklyn artist, Ran Ortner, entitled "Deep Water." The original wood ceiling is the only part of the old room that remains. The restaurant's redesign also includes the new Le Bernardin Lounge which provides a full display of the creative artistry of Chef Ripert and serves dishes such as gravlax, scallop ceviche and tuna brochette.
With the maximum rating of four stars from The New York Times and three stars from The Michelin Guide, Le Bernardin is informally known as "A Temple of Seafood" and consistently delivers innovative fish dishes that continue to inspire. In fact, GQ magazine named Le Bernardin one of "Seven Food Temples of the World." In the 2011 edition of the Zagat Guide, Le Bernardin receives a "29 out of 30" score for food. It is the highest rating for food in New York City and the first time such a score has been seen since l996. In l998, The James Beard Foundation named Le Bernardin "Outstanding Restaurant of the Year" and designated Eric Ripert as the "Top Chef in New York City."
The New York Times critic Sam Sifton recently wrote: "A serving of shaved razor clams with sea urchin sauce and Osetra cavier in the beautifully renovated new dining room of Le Bernardin was the most fully realized and delicious combination of flavors I have experienced in 2011."
Born in Antibes, in the south of France, Eric Ripert learned to cook at a young age from his grandmother. At age 17, he spent two years at the famous, 400-year-old La Tour D'Argent Restaurant overlooking Notre Dame in Paris and well-known for its "pressed duck." In Paris he also worked at the revolutionary Jamin restaurant under Chef de Cuisine Joel Robuchon, one of the world's top chefs.
Eric then arrived at The Watergate Hotel in Washington to work as Sous Chef in the renowned Jean Louis Palladin restaurant and then went to New York to work for David Bouley. Pursued by Le Bernardin's founder Gilbert LeCoze, Eric waited until his contract with Bouley was over before taking a position at Le Bernardin. He is now chef and co-owner with Magui LeCoze.
Eric's television series for PBS, Avec Eric, earned him two Daytime Emmy awards and he has appeared on Bravo's Top Chef for four seasons. His cookbooks On the Line and A Return to Cooking have been established as bestsellers in the cookbook category.
The TRAVELSAVERS Advantage
TRAVELSAVERS Products and Services