Antarctica: Following Shackleton's Footsteps
"The rufous-chested dotterel sits low in the diddledee," said the ornithologist on the ship's expedition staff as he pointed out a bird on the projection screen. Along with 105 other adventurers onboard our expedition ship, I looked at the seagull-looking bird with neon pink webbed feet. It was my second day on an Antarctic trip, and I was having trouble focusing on the screen because out the window, the sun lit up the South Atlantic Ocean like an undulating carpet of sapphires. The ornithologist changed the slide. "This is Wilson's Storm-Petrel. It has very weak legs, and when it flies, it looks like it's walking on water, so sailors called it the Jesus Bird."
"The rufous-chested dotterel sits low in the diddledee," said the ornithologist on the ship's expedition staff as he pointed out a bird on the projection screen. Along with 105 other adventurers onboard our expedition ship, I looked at the seagull-looking bird with neon pink webbed feet.
It was my second day on an Antarctic trip, and I was having trouble focusing on the screen because out the window, the sun lit up the South Atlantic Ocean like an undulating carpet of sapphires. The ornithologist changed the slide. "This is Wilson's Storm-Petrel. It has very weak legs, and when it flies, it looks like it's walking on water, so sailors called it the Jesus Bird."
I tried to listen, but couldn't help but wonder if I'd brought enough warm clothes. Would I freeze? Would I be sorry I'd signed up for a 20-day trip? I'd always seen photos of gigantic icebergs, breeching whales, and huge colonies of penguins and seals, but never signed up for Antarctica because I didn't want to have to cross the dreaded Drake Passage with some of the roughest waters in the world, and where everyone usually gets seasick. But then I read South, by Ernest Shackleton and I had to go.
In August 1914, Shackleton, a British explorer, set sail with a crew of 27, hoping to be the first to cross the Antarctic continent on foot. He was within 85 miles of his destination when his ship, Endurance, was trapped on the ice pack and crushed in the sea. For 20 months, he and his crew withstood frigid temperatures until they were finally rescued. In spite of the extreme conditions, every man survived, so even though Shackleton didn't achieve his goal, he was considered a hero for his perseverance and leadership skills.
If Shackleton's men could survive for almost two years with no warm clothes, sleeping in flimsy tents, and eating only seal blubber, I could surely endure a ship with comfortable accommodations and splendid food on my cruise to Antarctica, the Falkland Islands and South Georgia. The good news was that because we were headed to the Falklands from Ushuaia, Argentina, we'd only have to cross the dreaded Drake Passage on the way home.
When the temperature hovered around 50 degrees, it was warm enough to sit on my balcony and watch the birds soar or scan the water for seals. One day a dolphin swam next to the ship, then a second, and a third. Suddenly, there were thirty Commerson's Dolphins swimming alongside, porpoising in and out of the water.
My biggest fear was I'd gain weight being on a ship for so long. Yet, on shore, there were always hikes — climbing up to an Albatross colony, walking the beach to a former whaling station, trudging through snow or walking up steep hills to a penguin rookery — and always weighted down in gear and wearing rubber boots. Between the landings and evening dance parties organized by the seven passengers under 30, it was virtually impossible to gain weight.
There were plenty of contemplative moments. One day, I sat watching a seal harem play — like two opposing soccer teams scurrying back and forth on their flippers. Just then, a little seal pup waddled up and looked at me with huge soulful eyes. I had to restrain myself from picking him up because you're not allowed to touch the animals and you must stay three meters away. Of course, that rule didn't apply to the wildlife, and often a curious penguin chick would plant himself an inch from my face, trying to figure our what kind of penguin I was. (We were the Yellow Penguins in our yellow expedition jackets).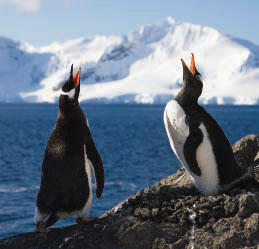 Each species of penguin had its own personality. The Rockhopper Penguins ("the rockies") were little whirligigs, jumping on and off the rocks, raising their beaks to bray, moving their heads up and down, and flapping their flippers as though any second they expected to fly. The Gentoos made whirring sounds like a lawn-mower engine, and their downy chests swelled up like bellows. The Gentoos loved to pick up pebbles to build their nests with and were notorious for stealing their neighbor's rocks. The Chinstraps seemed to be smiling with a thin curved line of black feathers beneath their chin, and the Adelies were like sheep because if one lifted its beak and whistled whoo whoo, suddenly hundreds would follow, turning the rookery into a cacophonous barnyard of raucous whistling.
The Macaroni Penguins had feathery yellow and black plumes on their heads. This might seem like a strange name, but in 19th century England, a man wearing flashy feathers in his hat was called "Macaroni," (remember Yankee Doodle?).
The King Penguins were the largest species we saw and were always in pairs, resting their heads on each other's puffy chests. The penguin colonies were huge, making Times Square on New Year's Eve look empty. One day we saw 300,000 Kings, another day, a half a million Gentoos moving tightly together like pilgrims to Mecca.
I began to trace Shackleton's route in South Georgia. One morning we traveled to Grytviken, where the Endurance set sail in 1914. Eight years later, Shackleton died of a heart attack (his doctor thought he drank too much whiskey). His body was brought back and buried in the Grytviken whalers cemetery. We stood over his grave, and as is the custom, toasted him with Irish whiskey, saving the last drop to pour on his grave. On the back of his tombstone was his favorite Robert Browning quote: "I hold that a man should strive to the uttermost for his life's set prize." At the nearby South Georgia Museum was a replica of the J. Caird, the small lifeboat that carried Shackleton and five crew members 800 miles across open seas.
Another day we hiked to Stromness where Shackleton and two crew members slogged up the final leg of their 36-hour journey, freezing in the Antarctic winter. From the summit we could see an old whaling station whose rusted buildings and machinery sat like ghosts. It was around 55 degrees, sunny and cloudless. We were so warm we had to take off our fleece-lined jackets.
We were scheduled to land at Elephant Island, where Shackleton left 21 of his men and went to get help in the small lifeboat. As we motored in the Zodiacs, hundreds of Chinstrap penguins leapt out of the water greeting us. The weather was foggy, a chilling wind was blowing, and it was much too rough to land on Cape Wild, the beach where the stranded crew waited four months to be rescued. But though we couldn't land, we were able to see a statue on the beach, a bust of captain of the Chilean vessel which rescued Shackleton's men in 1916.
The sea ice and icebergs were Shakleton's biggest enemy. For us, the icebergs were other-worldy sculptures shaped like billowing sails or elegant swans or the rounded hoodoo rocks of Bryce Canyon. Some were as big as ship containers and railroad cars. We turned off the Zodiac motor and sat surrounded by the massive icebergs, drifting through a universe of silence.
Soon, it was almost our last day. We were on Half-Moon Island in the South Shetlands surrounded by breeding Chinstraps and Weddel Seals that looked like giant slugs. We trudged up a steep hill with snow up to our knees.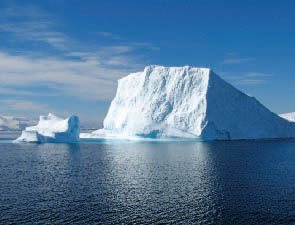 I was exhausted. From the top, I could see all the way to the Drake Passage. After a while, it was time to descend, but the hill looked much too steep to get down. The expedition leader suggested we slide. Slide? Without a sled? "Just lie down like Superman and go," he said. Shackleton, too, had arrived in a place too steep to descend, so he and his crew sat on the ice and slid down, their first moment of joy in nineteen months. If Shackleton could do it, so could I. Plopping down on my belly, I torpedoed my arms in front of me and pushed off. Yahhoooooooo!
And, even better, when we crossed the powerful "Drake Shake," it was more like the "Drake Lake," so calm we were able to sail within three miles of Cape Horn — an ideal way to end a journey to the last pristine universe on earth.