5 Unspoken Islands Of The Caribbean
For a certain breed of traveler, escaping to a beautiful, all-inclusive beachside resort in the Caribbean just isn't enough. That's why a growing number of die-hard serenity seekers are looking past the more popular hotspots and are making their way to many of the pristine, lesser known islands throughout the Caribbean.
For a certain breed of traveler, escaping to a beautiful, all-inclusive beachside resort in the Caribbean just isn't enough. That's why a growing number of die-hard serenity seekers are looking past the more popular hotspots and are making their way to many of the pristine, lesser known islands throughout the Caribbean.
SABA
Known as the "Unspoiled Queen" of the Caribbean because of its natural beauty above and below the water's surface, Saba's unspoiled landscape makes visitors feel like early explorers. Located 28 miles south of St. Maarten, this small five-square-mile eastern Caribbean island rises nearly 3,000 feet above the sea and is cloaked in lush rainforests. Saba is the real deal for those looking for a secluded haven in peaceful and friendly surroundings.
Though well versed in ecotourism, the island is relatively new to the tourism industry and only sees about 25,000 visitors each year. Saba is increasing in its popularity as a vacation destination due to its excellent scuba diving, climbing and hiking. The island's brilliantly colorful and pristine coral life makes it one of the most sublime places to scuba dive in the world. Many attribute the abundance of underwater life here to the island's remoteness. The surrounding waters were designated as the Saba National Marine Park in 1987 and are now subject to government regulation to preserve its coral reefs and vast variety of marine life. Despite the island's Dutch affiliation, English is the principal language spoken and the U.S. dollar is the official currency. A select variety of hotels, rental cottages and restaurants are available to visitors. The island's four small villages are quaint and charming - and the Saban people are downright friendly. While visitors can expect to feel as though they've taken a step back in history, the island has all the modern conveniences one would expect to find. Not bad for an island who received the 2010 Travel + Leisure World's Best Award for Top Island in the Caribbean.
Getting There:
All travel to Saba connects in St. Maarten. Several major airlines from North America, Europe and South America carry daily flights into St. Maarten. Special charter flights are also available from major cities during the winter season. There is also a ferry service from St. Maarten to Saba three times a week.
BONAIRE
Situated just east of its glitzier sister islands, Aruba and Curacao, Bonaire prides itself on unparalleled scuba diving and a sundrenched, laidback atmosphere. While the 113-square-mile island caters mainly to scuba divers, snorkelers and windsurfers, families will find plenty here to keep everyone happy. Nearly 80 of the island's dive sites are accessible from the shore and the surrounding marine ecosystem is loaded with a great variety of corals, anemones, parrotfish and seahorses. Snorkelers can even get in on the action with opportunities to swim among sea turtles.
When you're ready to take a day off from blowing bubbles, Bonaire offers an exciting list of things to do, whether it's kayaking through lush mangroves, hiking Washington Slagbaai National Park or rock climbing at Brandaris - Bonaire's highest point. Bonaire has some of the region's best bird watching. Look for Caribbean pink flamingos at the Salina Matijs and parakeets at Bronswinkel Well. If you prefer to talk to the animals, a visit to Bonaire's Donkey Sanctuary is well worth the trip. Great shopping, dining and nightlife can also be found in the island's sleepy seafront capital, Kralendijk. Families looking to hit the beach to catch some sun and fun should check out Lac Bay Beach and Sorbon Beach. Dining options throughout the island are surprisingly diverse and you can expect to find typical island fare as well as French and Asian cuisines. For superb seafood be sure to check out La Balandra, located at the Harbour Village Beach Club.
Getting There:
Bonaire is home to Flamingo International Airport. Local and international carriers, with a variety of carriers, furnish air travel to Bonaire.
UNION ISLAND
A stunningly beautiful island with rugged charm, Union is one of the last remaining undiscovered treasures of St. Vincent and The Grenadines. Relaxed, friendly and mostly off the beaten track, Union is a fantastic place to experience the region's natural beauty. It's this untouched allure that makes the island a unique paradise for yachting enthusiasts, scuba divers, hikers and sun worshipers. Union's immaculate white sand beaches are protected by reefs, making them ideal for beach-centric getaways. The fairly flat and shallow reefs are great for beginner snorkelers and divers and have plenty of colorful fish and reef formations.
Popular dive sites include Round About Reef and Clipper's Point. Home to approximately 3,000 residents, the island has two principal towns, Clifton and Ashton. Clifton is the busier of the two main villages due to the ferry wharf, airport, and the very popular yacht anchorage of Clifton Harbour. Along the town's main street you'll find a good selection of bars, coffee shops, boutiques, and eateries. The open air market opposite Hugh Mulzac Square and the wharf is well stocked with fresh fruits and vegetables. The shopping is good, with plenty of small, stylish boutiques. In the middle of Clifton Harbour sits Janti's Happy Island, a man-made island fashioned entirely out of conch-shells with a bar and restaurant that's popular with visitors. It's a great place to kick back and shoot the breeze with other sailors.
Getting There:
Union Island International Airport provides domestic flights to both Saint Vincent and some of The Grenadines and international flights to Barbados, Carriacou, Grenada and Martinique. From outside The Grenadines, it's recommended that you contact your local travel professional to arrange a connecting flight to the island.
MARTINIQUE
Marked by a number of rich cultural influences, Martinique is colorful, tropical and very French. Measuring in at 425 square miles, the island packs in an incredible amount of natural beauty, outdoor activities, diversions, history, shopping and culinary adventures. The north end of the island is characterized by dense forests, rivers and waterfalls. The center of the island transitions to the south's geologically older landscape of rolling hills; and the southern coast is dotted with many picturesque bays and coves.
Thanks to an average temperature of 79°F, Martinique is the island of the "never-ending summer."
Martinique's celebrated past is not only evident in its architecture, historic monuments and museums, but in its culinary mastery too. This is where the island truly shows off its Frenchness, coupling Caribbean influences to create inspiring dishes found nowhere else. Hotels and better known spots have menus in English, but many little places do not, so it's wise to bring along a French phrase book if you want to eat like a local. Many restaurants offer both French cuisine and Creole dishes.
Getting There:
There are several large international air lines which fly directly to Martinique's Lamentin International Airport. If you plan to do some island hopping, there are also flight connections from other Caribbean destinations like Puerto Rico and Antigua.
ELEUTHERA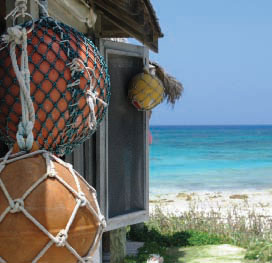 Lying 50 miles east of Nassau, Eleuthera was the first settlement in The Bahamas -founded in 1648. Of course, the island has undergone quite a bit of change since then, but you can still find many isolated beaches where you can easily escape to a blissful world of doing absolutely nothing. Essentially a pencil thin island, Eleuthera is over 100 miles long and only 2 miles wide - assuring you you're never far from the white- and pink-sand beaches. The landscape's rolling green hills, dramatic cliffs and sea-to-sea views truly make for some breathtaking sights from every beach.
Though Eleuthera may be more built up than other out-of-the-way islands, it retains an undeveloped feel. The name, Eleuthera, is Greek for "freedom," a fitting name for a Caribbean island that's free from crowds, cruise ships and casinos. The island moves at a slower pace than most people are accustomed to. The relaxed pace of life here, along with a varying selection of secluded villas, upscale resorts, and quaint inns, keep visitors coming back year after year - including members of the British royal family. The island is divided between North Eleuthera and South Eleuthera. One of the most popular spots is Harbour Island on the north end, famous for its pink and white sand beaches.