Vineyard Hopping Through South America
When was the last time you enjoyed a really great glass of wine? Better yet, have you ever popped the cork of a curiously exotic Cabernet or Chardonnay so luscious you had to visit the vineyard and winery where it was created?
Exploring Chile & Argentina's Vast Wine Regions
When was the last time you enjoyed a really great glass of wine? Better yet, have you ever popped the cork of a curiously exotic Cabernet or Chardonnay so luscious you had to visit the vineyard and winery where it was created? Well, that's just the effect many South American wines are having on unsuspecting palates across the globe.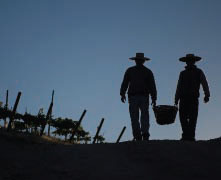 Sophisticated, satisfying, and quite unpretentious, the wines of Chile and Argentina are as varied and exciting as the countries themselves. From rolling coastal hillsides and spectacular plateaus, to vast plains and the towering peaks of the Andes Mountains, Chile and Argentina's breathtaking landscapes produce distinct vintages ranging from crisp, citrusy whites to juicy, sumptuous reds.
If you want to get a true taste of this corner of South America — its delicious wines and food, vibrant culture and people — a tour of both Chile and Argentina's wine regions is a must. And just in case you're traveling with someone who doesn't quite appreciate a great wine, the marvelous scenery and exquisite food is reason enough to bring them along.
Exploring Chile...One Bottle at a Time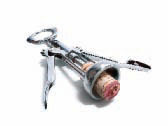 Stretching like a long, slender finger from Peru to the north, all the way down the eastern coast of South America to the southern tip of the continent, Chile is viticultural paradise with nearly 460 years of winemaking expertise. Chile is a study in climate contrasts, a veritable agricultural island marked by the Atacama Desert to the north, the Andes Mountains to the east, the Patagonian ice fields to the south, and the Pacific Ocean to the west. These natural borders maintain ideal growing conditions and protect vineyards against pests and disease, as well as provide stunning backdrops.
Chile's vineyards are scattered among 15 valleys that are divided into five main grape growing regions. Many wine routes are within a half-day drive of Santiago, Chile's sleek and modern capital city, with some of the most interesting and notable wineries being situated in the Maipo, Colchagua, and San Antonio-Leyda valleys.
Maipo River Valley
The Maipo Alto wine route in the Maipo River Valley is an ideal starting point for those new to Chilean wines. Located approximately 45 miles southeast of Santiago, the area holds the greatest grape growing and winemaking tradition in the country. Here you will find Chile's largest and more traditional wineries, as well as many up-and-coming boutique wineries, many owned by Chileans who have partnered with French, U.S. and Italian winemakers. If you prefer bold, daring red wines like Cabernet Sauvignon and Merlot, then this is your place. While distinguished reds reign supreme in most of the vineyards in Maipo, you'll also find excellent Chardonnays, Pinot Noirs, Sauvignon Blancs, and Sémillons. Mega winemakers Conch y Toro and Santa Rita rule the land in Maipo, and though a tour their sprawling, beautiful vineyards should be high on your list, there are other smaller, more intimate vineyards like Aquintania, Haras de Pirque, and Perez Cruz to explore. As with all winery tours, admission fees and hours can vary, so be sure to plan ahead if renting a car and traveling on your own.
Colchagua Valley

Boasting a delightful Mediterranean climate, the Colchagua Valley was rated the Best Wine Region in the World by Wine Enthusiast in 2005. The region's mild temperatures give way to full-bodied Syrahs, Malbecs, and Carménères — lesser known grape variety grown mainly in Chile. Of the thirty-five wineries located in Colchagua, Casa Lapostolle and Montes are two of Chile's most famous producers. Estampa, LasNiñas, and Hacienda de Araucano are several other superb wineries that are included on most guided tours through the area. Because Colchagua is a two hour drive from Santiago, your best bet is to stay a night or two as there are plenty of outdoor activities such as biking, horseback riding, hiking and several world-class museums including theMuseo de Colchagua, Chile's largest privately-owned museum with around 5,000 historic pieces popping with regional history. If you prefer to take the adventure to the rails, you can board the Colchagua Valley Railroad where you'll pass some of the valleys top vineyards and have the opportunity to learn about regional wines, traditions, and cuisine.
San Antonio / Leyda Valley
Easily accessible from Santiago and situated in a valley near the Pacific coast, the San Antonio / Leyda Valley is one of Chile's newest wine regions and excels in developing lean, crisp white wines. Morning mists, spring frosts, and the close proximity of the Pacific Ocean all lend a hand in helping produce top-rated Chardonnays and Sauvignon Blancs, along with spicy reds and cool climate Syrahs. Vines were only planted on the rolling coastal hillsides around 10 years ago, which is reason enough why there are only four intimate, yet impressive wineries: Matetic Vineyards, Viña Casa Marin, Amayna Vineyards, and Viña Garcés Silva. At Matetic Vineyards, visitors can sample peppery Syrahs, enjoy a cable ride through the property's treetops, milk sheep and learn how to make cheese. Casa Marin, one of Chile's top wine innovators, is less than three miles from the Pacific Ocean. Here you can expect to find delightful Sauvignon Blancs and Pinot Noirs. If visiting the San Antonio / Leyda Valley, plan on bringing your towel and sunscreen because when you're done exploring the vineyards, the beach is only a few miles away.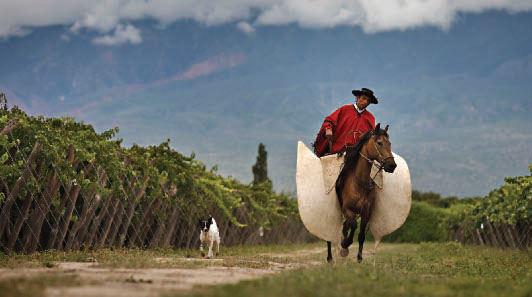 In Argentina, it's All About Malbec
Much like Chile's varying terrain, Argentina's wildly diverse landscape balances ice fields with arid zones, mountains with valleys, and grassy plains with seacoast— not the sort of environment you'd immediately expect to find vineyards flourishing in. Sure, Argentina may be best known as the home of Eva Perón, guachos, and smoky, dimly-lit tango salons, but that's changing, all thanks to the mighty Malbec grape.
Intense, complex, and quite sensual, no other wine reflects the passion and soul of Argentina better than Malbec. Along with it, you'll find that the usual favorite reds like Merlot, Cabernet Sauvignon, and Pinot Noir sparkle here, along with whites such as Riesling, Chenin Blanc and Torrontés — Argentina's quintessential white wine. Focus your visit on wineries in the Mendoza, San Juan, and La Rioja provinces as they offer some of the country's best vintages.
Mendoza
Life in Mendoza is all about wine and approximately 80% of Argentina's wine comes from here. The province's vineyards extend from the foot of the majestic Andes Mountains, all the way up to nearly 4,000 feet above sea level, with the highest, cooler vineyards being more suitable for white varieties. Malbec, Cabernet Sauvignon, Chardonnay and Tempranillo are the predominant varieties in Mendoza. Because there are an overwhelming number of wineries in the province, be sure to plan ahead as to which ones you'd like to visit, but if you're the adventurous type, anyone of Mendoza's wine roads — los caminos del vino—wind their way past many exceptional properties. If you're looking for a starting point, Bodega O. Fournier has one of the regions most architecturally interesting wineries, with vintages to match. As well, Bodega Dominio del Plata and Bodega Benegas both have important ties to Agentina's rise in developing superior wines. Make it a priority to take a leisurely stroll through the city of Mendoza's General San Martin Park. This enormous 865-acre public park offers panoramic views of the surrounding city and valleys.
Situated in between the Argentine provinces of Mendoza and La Rioja, the province of San Juan has a dry and mild climate ideally suited for many wines, especially Syrah. This region also produces very high-quality sweet and fortified wines made from Torrontés and Chenin Blanc. Winemakers such as Fabril Alto Verde, San Juan de Cuyo, and Bodegas La Guarda have turned out impressive yet affordable vintages certainly worth exploring. For an otherworldly experience, Ischigualasto Provincial Park, a UNESCOWorld Heritage Site, is located in the northeast region of the province and borders Talampaya National Park in La Rioja. The arid badlands surrounding the geological formation are known as Valle de la Luna (Valley of the Moon) due to their rugged, alien appearance. It was here that the remains of the Eoraptor, one of the oldest dinosaurs, was found. Should you prefer a more urban environment, the city oasis of San Juan makes a splendid retreat with its modern architecture, wide tree-lined streets, parks and plazas.
La Rioja
The third largest wine producer in the country (after San Juan), La Rioja is comprised of rugged mountains, low valleys, lakes, and rivers. Plan to include both Chañarmuyo Estate and Bodega Valle de la Puerta on your itinerary as they offer an inside peek at the region's famous Torrontés wine. Impressive local wines can also be sampled at the massive La Rioja wine cooperative which offers a free 45- minute guided tour. The city of La Rioja is an interesting mix of old and new architecture that highlight a strong European influence. Along with a myriad of churches, small museums, and restaurants, the city is home to the Convento de Santo Domingo, Argentina's oldest convent, dating back to 1623. Everyday the Mercado Artesanal de La Rioja is full of local vendors selling popular artworks, regional crafts, and other regional goods. For something a little more adventurous, visitors can head to Cerro de la Cruz, a peak that provides panoramic views of the Yacampis Valley as well as a hang gliding and paragliding ramp where jumps are offered daily.
CHILEAN WINE FAIR
Held at the end of September at the elegant Hotel Plaza San Francisco in Santiago, the annual Chilean Wine Fair is the place to sample over 50 different Chilean wines from both well-known and up-and coming wineries. Admission into the evening event includes hors d'oeuvres masterfully prepared by Executive Chef Axel Manriquez. During the Fair, the hotel's Bristol Restaurant offers a specially priced dinner menu highlighting regional
Chilean specialties.