Sailing the Regal Rhine
Sometimes girls just want to have fun, plain and simple. As much as we enjoy the company of family or significant others, there are times an adventure is just more fun when hanging with the girls.
Sometimes girls just want to have fun, plain and simple. As much as we enjoy the company of family or significant others, there are times an adventure is just more fun when hanging with the girls. This was certainly the case for my sister Brenda and me when it came to taking a well deserved vacation from our busy lives.
In need of a girlfriend getaway where we could relax and dine in elegance, shop to our hearts' content, and experience new places, we headed out on an eight day Rhine River cruise with Avalon Waterways. It was our chance to experience Europe together and create new memories while exploring the beauty of the regal Rhine and its many picturesque ports of call.
Brenda and I share many interests and understand each other very well. For me, the perfect vacation is one where I only need to worry about how to roll my outfits correctly to fit into my suitcase. Brenda, on the other hand, excels at vacations that require hours and hours of preliminary planning. So it was with trepidation that I suggested we plan a Rhine river cruise through Europe and let someone else handle all the details. Fortunately, she loved the idea of visiting four countries-where you never unpack more than once-and we booked our river cruise that commenced in Amsterdam and concluded in Basil, Switzerland.
Navigating One of Europe's Most Celebrated Rivers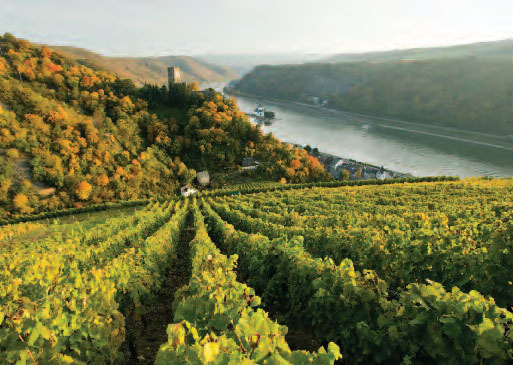 We arrived in Amsterdam on an overnight flight from Canada and were met at the Queen Beatrice Airport by an Avalon Waterways representative who escorted us to our transfer coach. Once onboard the Avalon Tapestry, we explored our beautiful oversized cabin (with floor-to-ceiling windows) and the ship's layout. The ship has 80 staterooms and a large lounge area that doubles as a gathering area for special events. Tapestry's expansive top deck gave everyone the opportunity to fully enjoy the view as we sailed along the Rhine.
The next day, after a fun and informative canal cruise through Amsterdam, we headed down the Rhine Canal to the Rhine River. We woke up the following day in Cologne, Germany, a city that has risen from the ashes of World War II. The skyline is dominated by the two dramatic Gothic tiers of the Cologne Cathedral, Europe's third largest cathedral. After touring the cathedral and surrounding neighborhood, we headed out on our own and discovered a chocolate demonstration museum where we picked up delicious souvenirs. In the evening we enjoyed a three course meal highlighting regional specialties. Ingredients for Avalon Waterways' meals are sourced locally, giving you the special opportunity to experience local cuisine with complimentary regional wines.
Our fifth day onboard took us to the confluence of the Rhine and Moselle Rivers in Koblenz, a city blending modern buildings and old cobblestone streets. After touring the city we headed down river to the Rhine Gorge, past the famous Lorelei statue and onto three hours of jaw-dropping castle viewing from the top deck of the ship. We docked that evening in Rudeshem where we visited "Siegfried's Mechanical Instrument Museum" and viewed player pianos, organ grinders and rooms full of mechanical animals playing instruments from various centuries. Many of these incredible instruments still operated and were demonstrated for us as we listened in awe.
On our sixth day we visited Heidelberg, Germany's largest university town with its famous red sandstone castle, and on day seven toured Strasbourg. So far we had visited the Netherlands, Germany and now would see the capital of the Alsace region of France. Strasbourg is located on the border of France and Germany, and is very influenced by the culture of both countries. Here we toured the La Petite France while indulging in French pastries and plenty of window shopping.
The Freedom to Explore
Avalon has optional tours and excursions at some ports, so you can venture further into the local countryside. For our afternoon in Strasbourg we toured a couple of nearby wineries. The winery that we particularly enjoyed was Klipfel, where ancient underground cellars held thousands of bottles of aging wine. After the tour, we experienced a European style wine tasting where we sat at long tables with fresh bread as our tasting "assistants."
As we sailed to Breisach that evening, we were treated to a demonstration by a master carver from the Black Forest. The following morning we wound through small villages as we headed to the Black Forest. A thick forest of pine trees lead the way to a slice of Black Forest cake and a shop filled with hundreds of hand-carved cuckoo clocks.
Our river cruise ended the next morning in Basil, Switzerland. We had previously extended our vacation by one day to visit Zurich, Switzerland and stayed in a hotel near Lake Lucerne. The weather was perfect as we walked along the lakefront and visited the Zurich Zoo. We boarded our flight back to Canada the next morning and spent most of the flight planning our next river cruise vacation-to the South of France! River cruising is truly a perfect way to visit Europe, especially when you're with a girlfriend who also happens to be your sister!